Perfect
document capture
with AutoClick
AutoClick. In use millions of times a day
Capture documents digitally
Save time and resources and reduce your staff workload
The solution for everyone who wants to do more than just read out invoices.
Document capture with AutoClick is about extracting the relevant information from different documents, such as invoices, delivery notes, contracts or parts lists, as automatically, completely and correctly as possible.
It is about replacing repetitive manual tasks, such as typing, comparing, searching or checking, with automatic software processes. Because this saves time and money and is also more reliable. This in turn leads to transparent and efficient workflows. AutoClick stands for optimal digital document capture.
Why AutoClick?
Reduce costs

Digital transformation instead of cost-intensive manual work. Automated software processes are fatigue-free, and work precisely and reliably. They also relieve the workload for the specialist departments. And AutoClick is also easy to use.

Optimise processes

Digitalisation starts with document capture. AutoClick captures and validates documents, in batches and fully automatically, and helps you optimise administrative workflows.

Create flexibility

AutoClick can capture any information from recurring documents and make it available specifically to the processes in which it is needed. Many possibilities, one tool!

Maximise reliability

Few manual interventions, high efficiency, maximum results. With AutoClick, the capture is optimised and can be readjusted if necessary.
What does AutoClick do?
AutoClick is a learning document capture system. It is particularly characterised by its intuitive operation and very high recognition rates. With AutoClick, documents can be trained in a matter of minutes, without IT knowledge, because this cannot necessarily be assumed in specialist departments. The learning curve of AutoClick is thus extremely steep and reading rates above 95 percent are no dream.
The free reading of complex position data or tables, even if they extend to hundreds of pages, is another outstanding feature of AutoClick. The read results can be automatically validated, i.e. checked, in AutoClick. Freely configurable test rules are available for this purpose. The software can be integrated into any IT infrastructure thanks to a wide range of configuration options.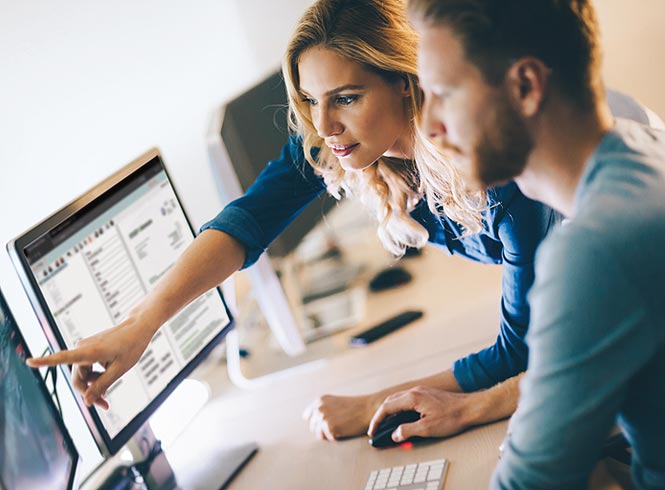 AutoClick offers many advantages ...
... for specialist departments
Automation of repetitive manual tasks
High read rate
High quality results
No presorting of documents
Simple and fast training
For all document types
Intuitive operation
Individual optimisation options
... for IT
Short installation and configuration time
Individual and flexible configurability
Very simple creation of the data entry screens
Highly scalable
Open system
Easy integration into existing IT infrastructure
Modular system with many expansion options
Programming interface for individual expansions
Individually configurable validation rules
Definable lookups at field level
... for decision makers
Shorter process cycle times
Fast ROI
High automation potential
Versatile use
Growing system
Strengthening competitiveness
Transparent processes
AutoClick features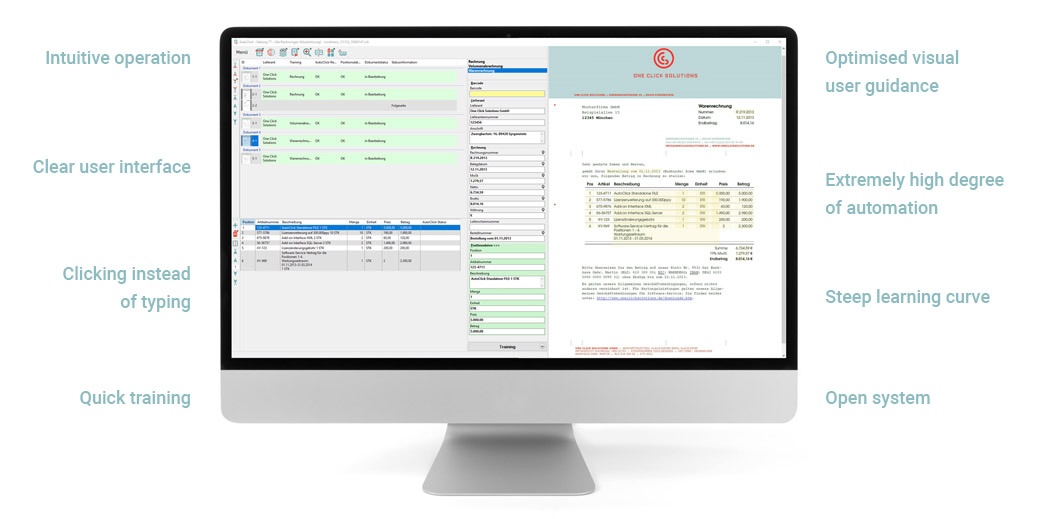 Modules
Adapt AutoClick to your needs
AutoClick is built on a modular principle: from the AutoClick basic software and extension modules for special tasks or applications.
In this way, many customised solutions can be assembled from product components. Configuring instead of programming, because it is faster and works dependably.
position data & tables

Complex, versatile position data or tables are recorded variably – even without reference.

mail distribution

Processed documents are automatically sent to recipients or mail baskets.

workgroups

Depending on the document type, documents are fed to configurable work groups or departments.

accounting

Invoices are pre-assigned down to item level and client-specific tables (chart of accounts, cost centres, etc.) are integrated.

multi-queue / multi-client capability

Different input directories are monitored, documents are processed variably.

address recognition

Addresses on documents are determined without presorting and used as index values and for document separation.

x-invoice / e-invoice

Incoming X-invoices are processed without process changes, paper/pdf invoices in X-invoices are provided internally as X-invoices and outgoing invoices can be sent as X-invoices.

diamant interface

Invoice data is transferred to Diamant Software via a WebServices interface.

datev xml online interface

Invoice and receipt data are provided in a ZIP file with directory and imported to DATEV XML Online.

integration interface

Process and validation routines can dock onto this interface and AutoClick can be further customised.

scan-import

Scan files are transferred via a secure connection from locally distributed scanning stations to the AutoClick server for central processing.
Technical information
AutoClick

Entry
Level
Document volume (pages per year)
5,000 - 100,000
System
Desktop, single licence
Database
CSV files or Microsoft® Access®
AutoClick

Pro
Level
Document volume (pages per year)
100,000 - 2,500,000
System
Server, network licence
Clients: Desktop PC / Terminal Server
Database
Microsoft® SQL-Server® 2019 Express
AutoClick

Enter­prise
Level
Document volume (pages per year)
> 2,500,000
System
Server / Multi-Server, network licence
Clients: Desktop PC / Terminal Server
Database
Microsoft® SQL Server® 2019
General
Supported operating systems:

Microsoft® Windows (from 7)
Microsoft® Windows Server (from 2012)

Supported file formats: PDF, JPEG, TIFF, PNG, BMP, X-Invoice, ZUGFeRD
Interfaces: PDF, XML, CSV, TXT, DB, e-mail, web services
Integration in: ERP system, Wawi and Fibu systems
Application: Standalone & Client/Server Solution
Say goodbye to mountains of paper and get to know AutoClick!
Demo version
Test AutoClick free of
charge and without obligation.
Request now
Learn more now!
We would be happy to advise you personally.
Contact
AutoClick fact sheet
Download our data sheet with all the information.
Load PDF